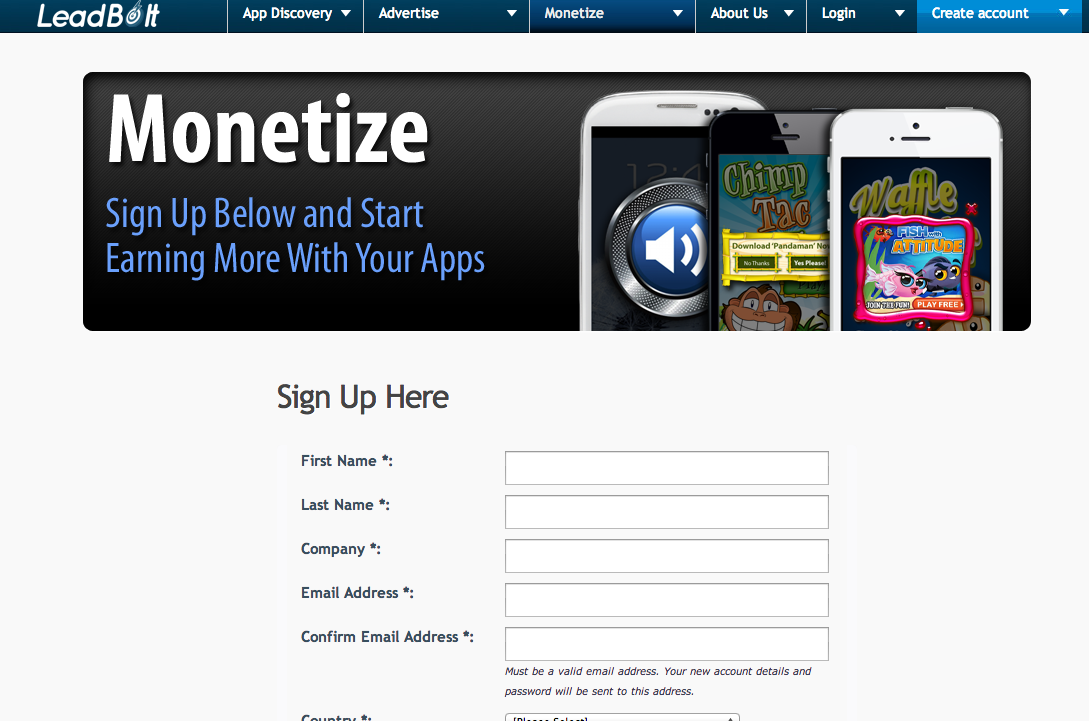 This is a quick guide about how to incorporate some of Leadbolt's HTML ads in Andromo or Buzztouch apps or any other app builder that does not currently have Leadbolt SDK.
How to add Leadbolt app wall to Andromo apps:
1)Head over to Leadbolt and sign up for an account:
(You should get a simple one page sign up page)
2) Wait for confirmation email and activate your account.
3) After you login, click on Apps
4) On your Apps page, click on Create New App/Mobile Web.
5) Fill in the details and click Create now.
6)Next click the green + sign next to your app to bring up a window as shown below, CLick on HTML ads on the, Ad type.
7) Go through the menus and customize your ad, and click add now at the end of the setup process.
8) You will get a screen with ad code/url as shown below
9) All apps needs to be approved by Leadbolt before they receive live ads, click on the Green arrow, saying apply app to send the app for approval
10) Now its time to add this to our andromo app.
11) There are two ways to add this to your app
a) Create an activity(Website) on your app, and add your URL from leadbolt for the    website URL
b) Create house ad in Admob and use this url to create a House ad to serve this URL.
You can try either or both, or so some studies to see what works best.
That's all, now your app is receiving app wall ad from Leadbolt. You can also add a banner ad using the same process. Other ad formats are not available as HTML ads and have to wait till andromo incorporates their SDK.
Hope this was helpful, Please feel free to ask if you have any questions in the comments section or in android forum.
By- Bikul Koirala